JSIA
Greeting from the Chairman of the Semiconductor Board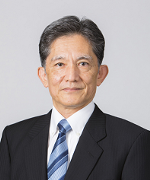 Nobuo Hayasaka
Chairman, Semiconductor Board (JSIA)

I would like to extend my greetings to you all as the newly appointed chairman of the Semiconductor Board.
Innovative technologies such as IoT (Internet of Things), 5G (5th-Generation Mobile Communications), AI (Artificial Intelligence), Big Data and Robotics are making dramatic changes to the entire structure of industry as rapidly as we never experienced before. Semiconductors that should play the important role to realize hSociety 5.0h are required to expand their supply capacity to meet the diversified market demands and the explosive market growth beyond the traditional silicon cycle framework. With capital investment and M&A aiming to capture new demand for semiconductors around the world accelerated, it is also an unparalleled opportunity to boost the presence of Japanese semiconductor industry. Therefore I recognize human resource development, R&D and operation reform are critical topics for the future of this industry, while cyber security for connected devices is an emerging issue.
Since its inauguration in July 2004 to succeed the prior activities of EIAJ (Electronic Industries Association of Japan) etc., JEITA Semiconductor Board (JSIA) has helped to solve the shared problems of Japanese semiconductor industry (trade rules, intellectual property rights, standardization, environmental conservation and technology development), and has represented the position of Japan through various opportunities. It also continues to promote activities centered on the international cooperation such as collaborating with the World Semiconductor Council (WSC) to deliver proactive proposals to GAMS (Government/ Authorities Meeting on Semiconductors).
In order to further strengthen the competitive advantage of the Japanese semiconductor industry among the international community and to promote the measures and actions to realize the visions of member companies, we will continue to work with you, all member companies, to proactively evolve collaboration beyond the barrier between industrial fields. With your further understanding and support, I will devote myself to the sound development of whole semiconductor industry and to the realization of a prosperous society.
July 2018
Nobuo Hayasaka
Chairman, Semiconductor Board (JSIA)
Japan Electronics and Information Technology Industries Association (JEITA)