JSIA
Greeting from the Chairman of the Semiconductor Board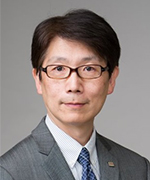 Takashi Miyamori
Chairman, Semiconductor Board (JSIA)

Semiconductor devices are used not only in all kinds of electrical products including smartphones and personal computers, but also in systems of infrastructures such as the Internet, telecommunication, transportation, and electricity. They are indispensable for making our social lives secure, safe, and comfortable. Furthermore, recently, we have often found the word "Semiconductors" in the news and media reports because of their tight supply/demand conditions due to the COVID-19 pandemic and the global trade friction. The importance of semiconductor devices has been recognized again and it becomes megatrend now that many countries regard semiconductor devices as strategic products and introduce the policy to protect and develop the semiconductor industry in their own country.
The Japanese government has also announced the policy to work on securing the foundations of a digital industry as a national project which will support the economy, society, and democracy. Semiconductor devices are in an important position for the foundations of a digital industry as key components. They will also play a substantial role to achieve the carbon-neutral target by 2050 and thus more technological innovation is required in semiconductor for the goal of green innovation.
In these circumstances JEITA Semiconductor Board (JSIA), which consists of chip manufacturers and semiconductor related companies, is engaged in activities such as policy proposals, initiatives toward trade issues, promotion of standardizations, response to environmental problems, and human resource development to solve various problems common to semiconductor industry. It also cooperates with semiconductor industry associations in overseas and collaborates with the World Semiconductor Council (WSC) to deliver proposals to Governments/Authorities Meeting on Semiconductors (GAMS).
We will continue to promote activities together with our members for the growth of semiconductor industry in Japan to contribute to digital innovation and green innovation of our society. We would appreciate your further understanding and support.
July 2021
Takashi Miyamori
Chairman, Semiconductor Board (JSIA)
Japan Electronics and Information Technology Industries Association (JEITA)